Feel more focused & energetic
Clean calm energy all day long
Say goodbye to caffeine crashes
Sustained energy & better mood
The perfect all-in-one blend for calmer energy, without the jitters
SHARPER FOCUS SUSTAINED ENERGY GREAT TASTE VEGAN BETTER MOOD GLUTEN FREE UK BASED CALMING EFFECT NO CRASHING CRUELTY-FREE INCREASED PRODUCTIVITY ALL NATURAL IMPROVED CONCENTRATION AFFORDABLE SHARPER FOCUS SUSTAINED ENERGY GREAT TASTE VEGAN BETTER MOOD GLUTEN FREE UK BASED CALMING EFFECT NO CRASHING CRUELTY-FREE INCREASED PRODUCTIVITY ALL NATURAL IMPROVED CONCENTRATION AFFORDABLE SHARPER FOCUS SUSTAINED ENERGY GREAT TASTE VEGAN BETTER MOOD GLUTEN FREE UK BASED CALMING EFFECT NO CRASHING CRUELTY-FREE INCREASED PRODUCTIVITY ALL NATURAL IMPROVED CONCENTRATION AFFORDABLE SHARPER FOCUS SUSTAINED ENERGY GREAT TASTE VEGAN BETTER MOOD GLUTEN FREE UK BASED CALMING EFFECT NO CRASHING CRUELTY-FREE INCREASED PRODUCTIVITY ALL NATURAL IMPROVED CONCENTRATION AFFORDABLE SHARPER FOCUS SUSTAINED ENERGY GREAT TASTE VEGAN BETTER MOOD GLUTEN FREE UK BASED CALMING EFFECT NO CRASHING CRUELTY-FREE INCREASED PRODUCTIVITY ALL NATURAL IMPROVED CONCENTRATION AFFORDABLE
Supercharged shrooms
○ Proven herbal adaptogens ⚡
Gelatin & Gluten Free
○ Vegan & cruelty-free ❤️
100% all natural blend
○ Eco-friendly, healthier & safer 🌿
Why
thousands

of people start their day with


Gold Dust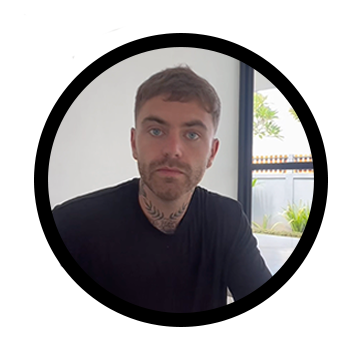 WISH I HAD IT EARLIER ......
''....since I began Gold Dust, my energy has increased, as well as my mood. I'm way more productive and focused at work, I'm even sleeping better!"
Aron H.
Why Gold Dust, is #No1..
You'll feel an increase in productivity & overall mood
A supercharged focus + feeling far more alert
A wake-up like coffee but say goodbye to crashing
No more feeling tired only a new sustained energy all-day
You'll be in your 'flow state' with a perfect night's sleep
You'll have way more energy without countless coffees
The UK's most affordable
Say goodbye to jitters
Stay in your flow state, supercharged focus
🍫 Mix it up🍦
Water, milk or even your favourite shake
Delicious taste
Chocolate or Vanilla - it tastes great
Potent Power of Pure Natural Ingredients
Vegan, gluten & keto friendly
Big quantities: 3-4x stronger
High-quality ingredients
100% organic & safe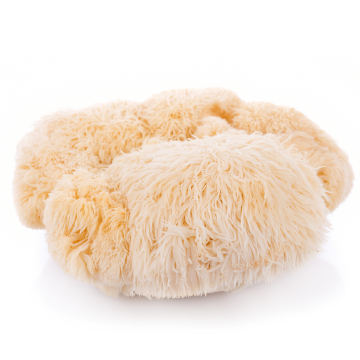 Lion's mane mushroom
1000 mg
The 'smart mushroom' - Enhances brain function, which provides better performance improves memory, focus & clarity.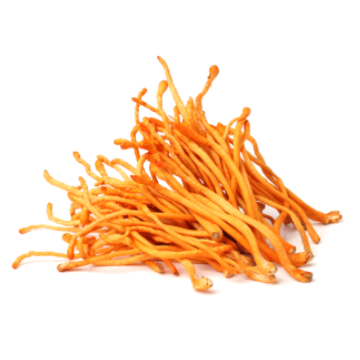 Cordyceps mushroom
1000 mg
The 'performance mushroom' - known to boost energy & strength, improve immunity & stamina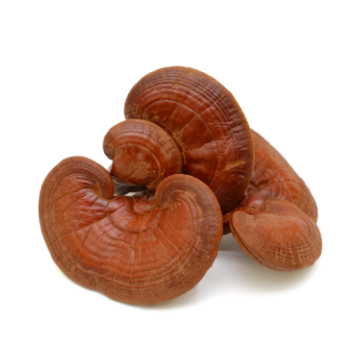 Reishi mushroom
1000 mg
The 'relaxation mushroom' - is known to enhance the immune system, lower blood pressure, reduce stress, improve sleep, and lessen fatigue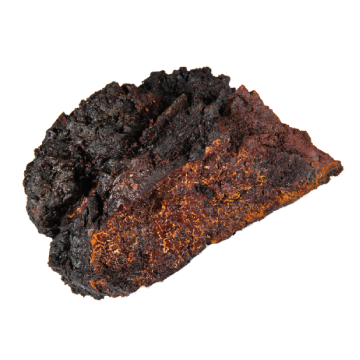 Chaga mushroom
1000 mg
The 'health-boosting mushroom' - has been shown to be an effective antioxidant and immune booster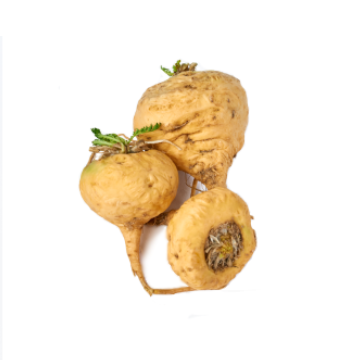 Maca root
250 mg
The 'libido root' is known to increase energy, improve mood, and boost stamina & libido. A potent & powerful ingredient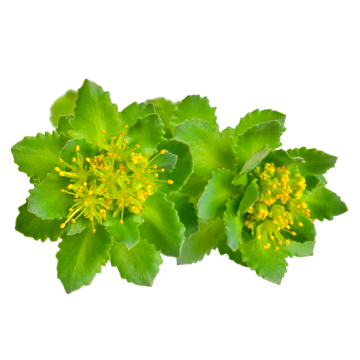 Rhodiola rosea
25 mg
Adaptogenic herb known to improve athletic performance, resist the effects of stress and help manage depression, anxiety, and other symptoms.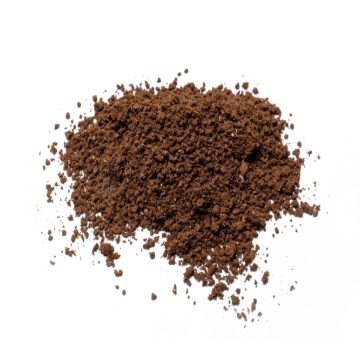 Caffeine extract
50 mg
Natural boost in energy, focus & alertness. More potent than coffee bean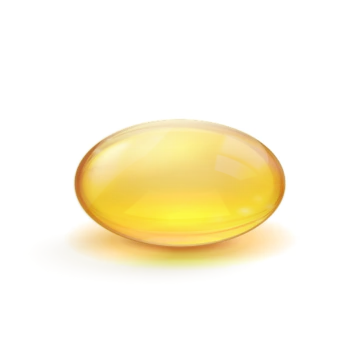 Vitamin B5
6 mg
An essential nutrient in the breakdown of fats and carbohydrates for energy, also known to help aid in stress reduction and anxiety management.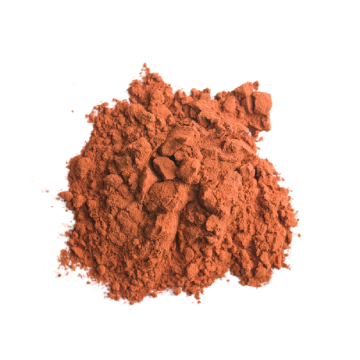 Cacao Powder
The ''food of the gods'' amazing natural flavour & helps boost cardiovascular health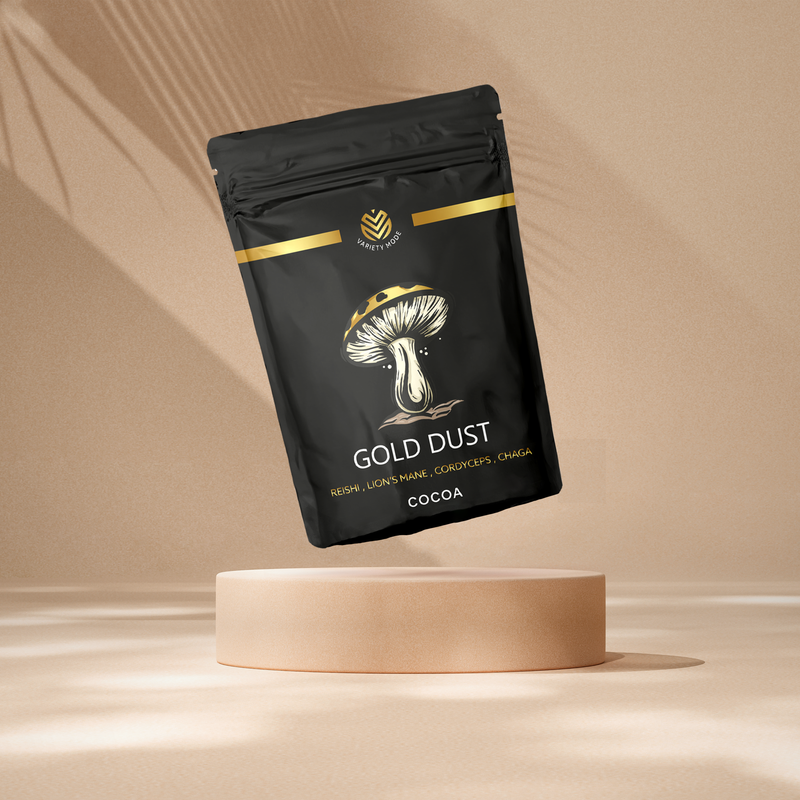 Supercharged Mushrooms
Become the best version of yourself with
✨ Gold Dust ✨
A powerful mushroom & adaptogenic blend.
Gold Dust's uniquely powerful & balanced blend of mushrooms and adaptogens produces effects unmatched by other products...
REISHI • LIONS MANE • CORDYCEPS • CHAGA
Our blend boosts the body's natural health and energy levels using ancient powerful Mushrooms.
🤫 Nature's best-kept secret.
How to Gold Dust ✨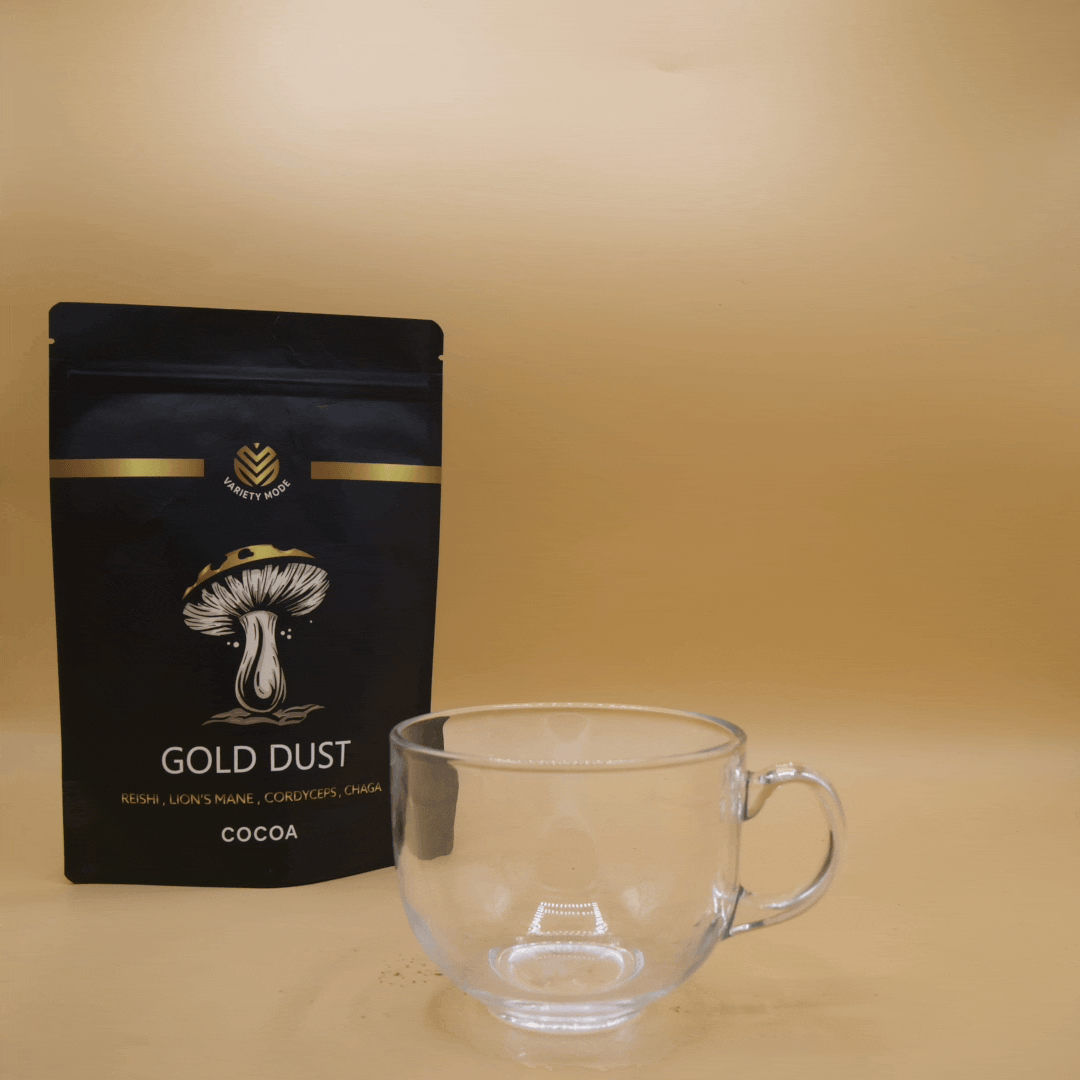 Add 2 scoops to a cup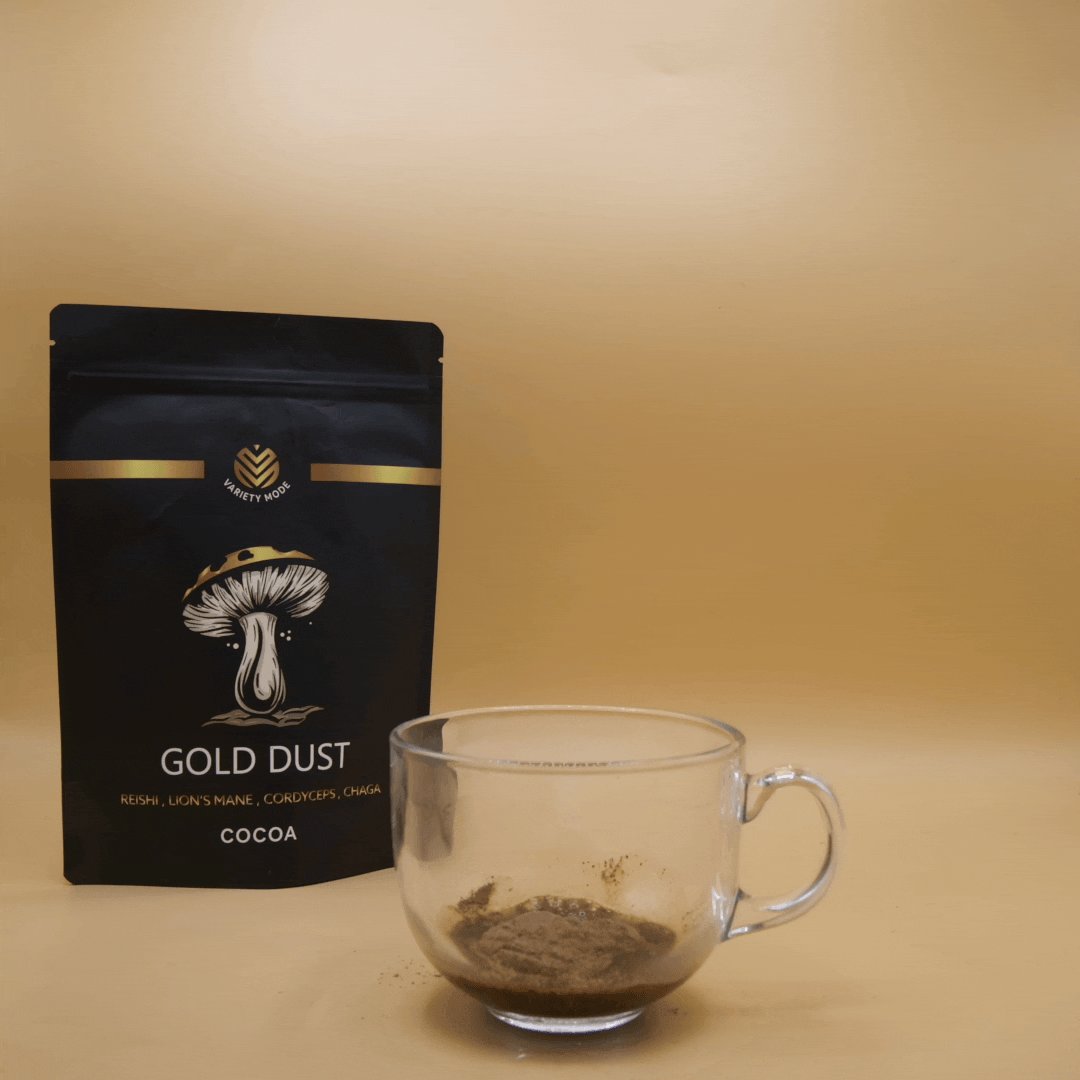 Add hot or cold water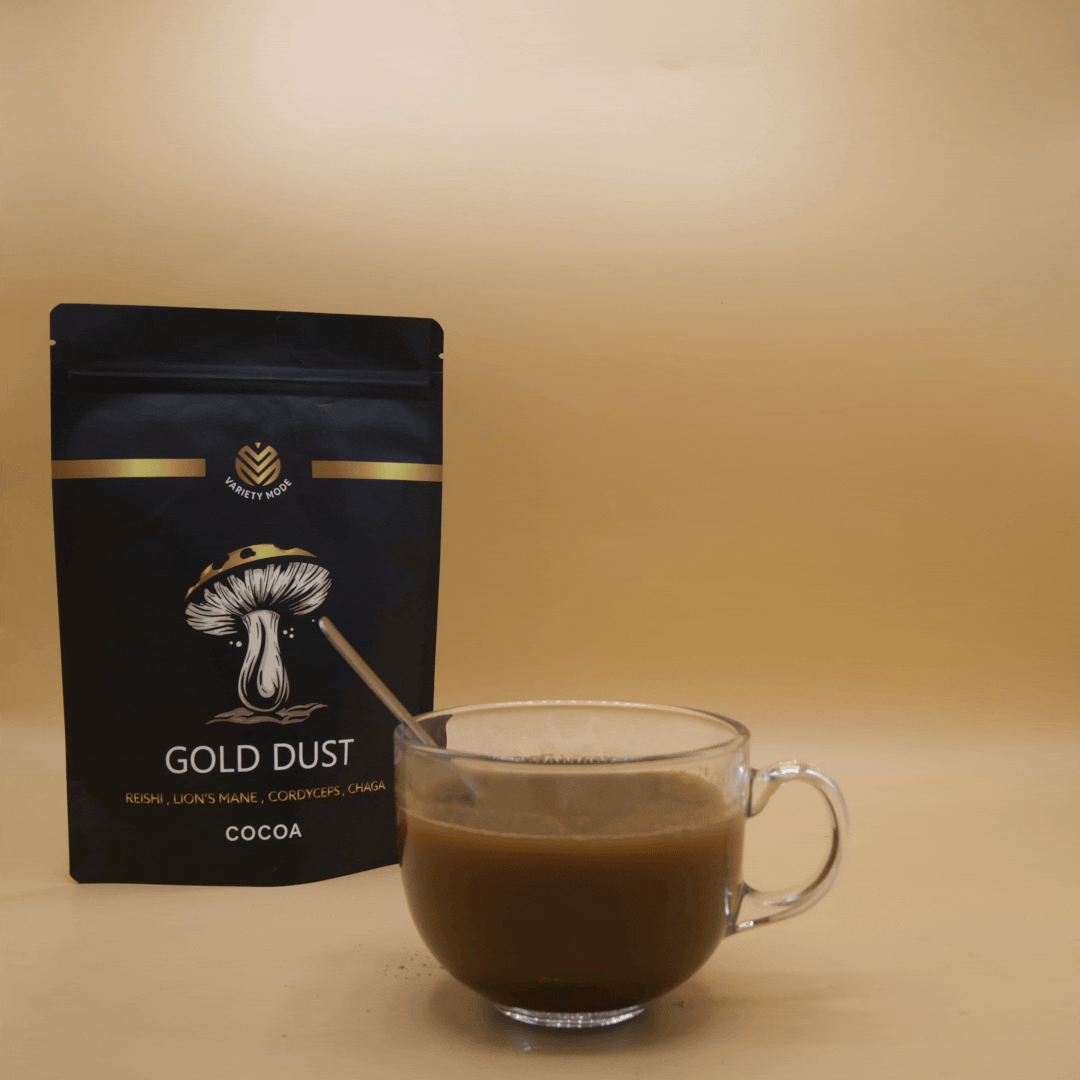 Give it a quick stir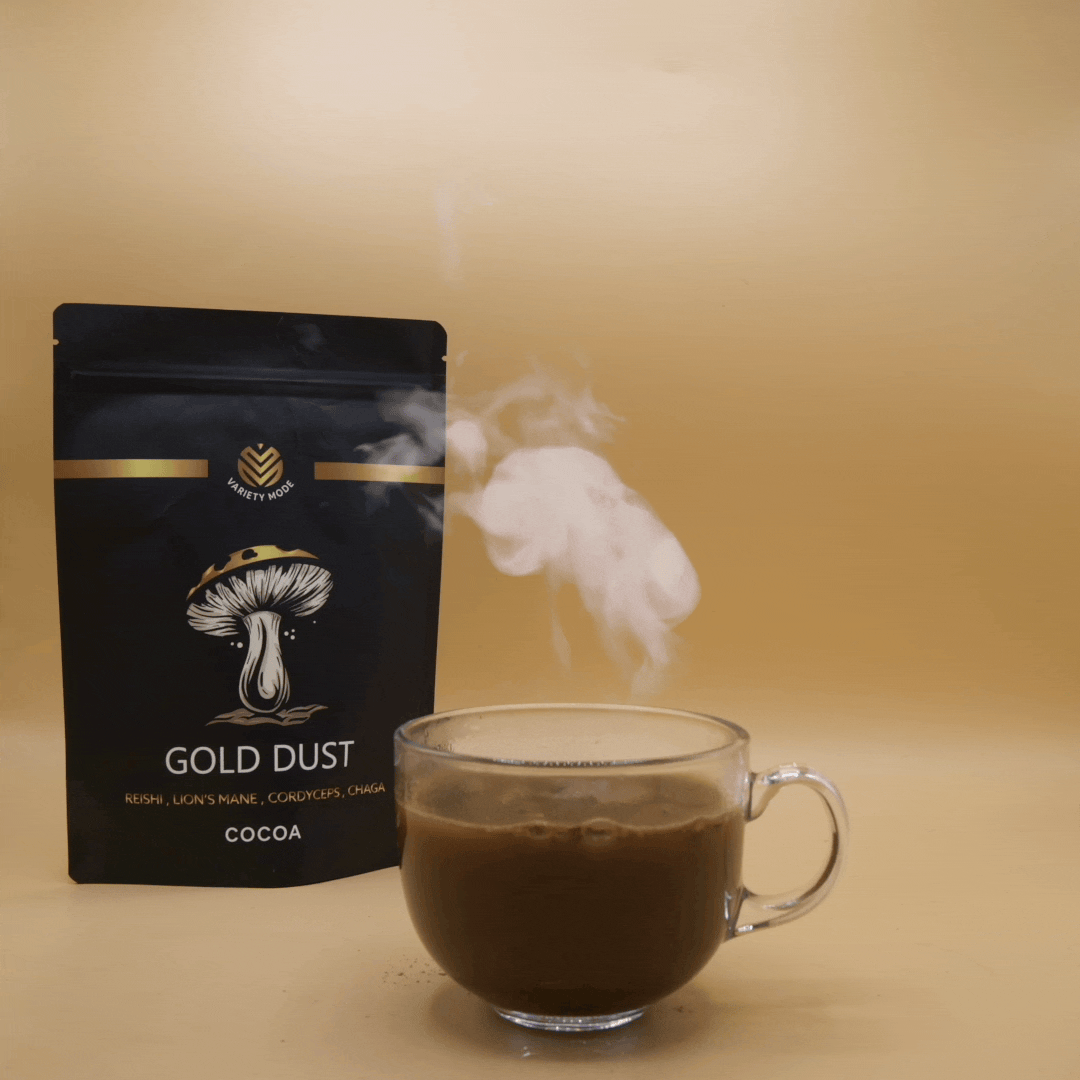 Enjoy your Gold Dust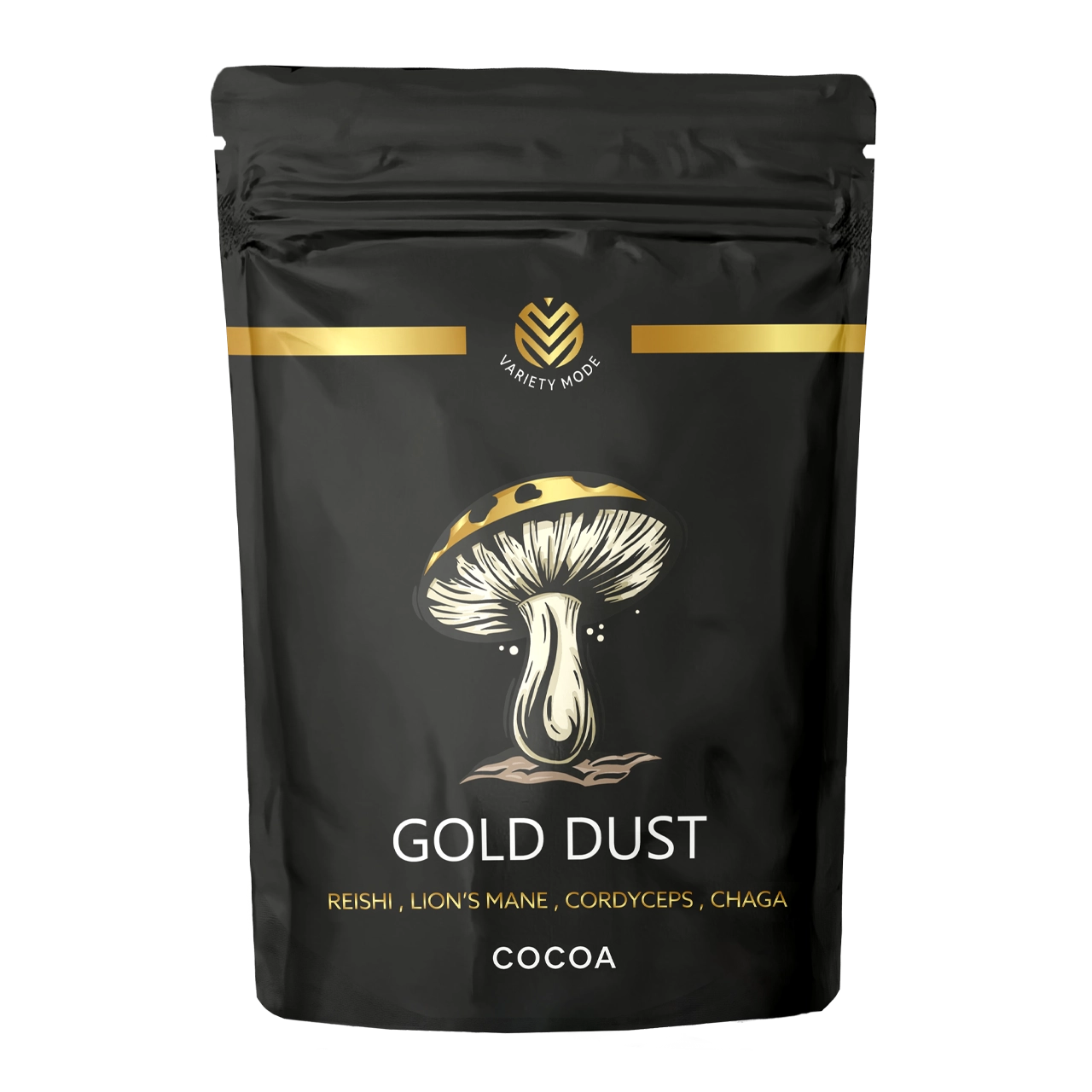 SAFE CAFFEINE
Lower mg = a calmer energy that sustains
TASTES GREAT
No sediment, perfect blend. Not too sweet
BETTER FORMULA
Every single ingredient is beneficial
SUPERCHARGED
4 powerful & perfectly balanced mushrooms
POTENT & SAFE
Organic, potent with optimal dosage & mix
AFFORDABLE
Accessible & made to be affordable for all
IBS SENSITIVE
No digestive irritation+ Caffeine free options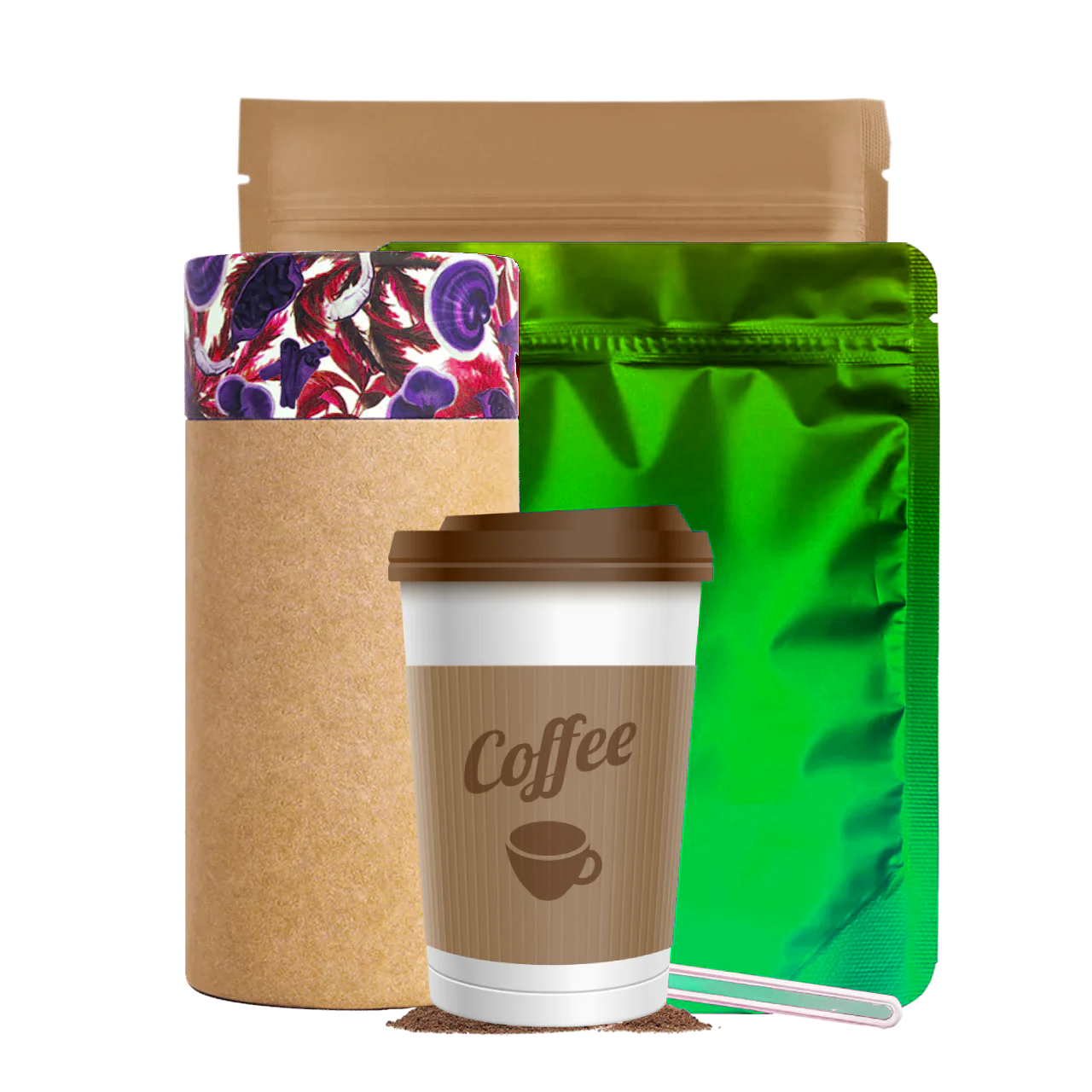 HIGH CAFFEINE
Can give the caffeine jitters and crashing
ACQUIRED TASTE
Too sweet, or earthy hard to mix and drink
NO FORMULA
Minimal or no support + artificial ingredients
OVERCHARGED
Less ingredients =less benefits for you
EXCESSIVE
Weaker dosages with lesser extracts & mix
EXPENSIVE
Overpriced, can often be 2/3 the cost for less
SIDE EFFECTS
Stomach aches, pains, headaches & more
FAQs
Do you have questions? 🥰
Could these mushrooms be 'magic' 🍄 Are they legal?
Nope! All our products are completely legal and comply with the laws and regulations of countries around the world - our goal is to design innovative, affordable consumer products that can boost mental performance, mood and overall well-being! As a result, this is the most effective all-natural adaptogenic mushroom blend in a format you will love...
Ingredients are safe, right?
You bet! Every ingredient we use is 100% safe, without exception - we have FDA-approved, award-winning facilities to test all our formulas. It is not uncommon for companies to sacrifice safety for potency, leading to headaches and stomach cramps. We use the right dosages in the right amounts. Quality is our number one priority! We never cut corners when it comes to our products, and this is reflected in their long-term potency and effectiveness.
How does it all work?
Mushrooms are nature's ancient superpower! It has been scientifically proven on numerous occasions that the ingredients in our blend have been used across the globe with powerful effects. With our other powerful natural plant ingredients, our potent blend of 4 primary mushroom extracts provides a strong adaptogenic effect for the body and mind. When combined at the right dosages, the ingredients we use have a powerful natural effect.
When I take Gold Dust, what effect will it have on me?
There will be no jitters or crashes throughout the day, just sharp focus, sustained energy (both body and mind) and a peaceful calm. 'Gold Dust' is a natural alternative to westernised medicine that works, and provides real longevity and sustainability, so you can take it every day without feeling the need to take a break - without experiencing any adverse side effects or dependency. The original design and testing were done by us with phenomenal results. Knowing many people were looking for similar products, we launched Gold Dust to help everyone be more attentive and focused. You're going to love it just like we do (makers, creators & entrepreneurs alike)!
Is there a recommended amount and time to take it?
With Gold Dust, you can get super simple & effective results with a once-a-day regimen. You'll be able to power through the day with one 8g serving (2 small scoops) in the morning! Alternatively, some people prefer to have two 4g servings at different times, combine them with our gummies - or even take slightly more than that in their daily routine - however, we recommend no more than two servings of 8g each. Don't forget, you can add it to almost anything - water, milk, coffee, tea, protein shakes, whatever you like!
Would taking both gummies and powder on the same day make sense?
Yes, of course! Using the powder alone can produce super simple & effective results. For added alertness throughout the evening, most people have two or three gummies in the afternoon. Others prefer gummies as an alternative. Our general recommendation would be to take gummies at a different time than powder, but there is no reason you cannot have both. For those taking the powder as well, we recommend consuming no more than two servings of 6 gummies per day.
Can I get a sample?
You bet! We offer a 5-day sample of cocoa (5 x 8g) & 1 serving of our cherry gummies! Drop us a message if you would like to request a free sample. With the purchase of our powder, you can save up to 40% on Gold Dust by purchasing it via a subscription! It's also free to cancel
How does the subscription process work?
When fully integrated into your lifestyle and routine, Gold Dust provides the most effective results when used long-term, and consistently. We generally recommend trying the product for at least 3 months to achieve the absolute best results. As a result, we offer discounted subscription plans - you can choose between rolling monthly billing and quarterly billing - which will save you considerably over one-time purchases, and you can edit or cancel your subscription at any time.
Is there a scooper included with the powder?
Absolutely, you don't need to worry about saving the scoop from a previous order since every Gold Dust pouch includes a scooper
Is it calorie-free?
Not quite! The nutritional breakdown of Gold Dust can be found on the product page - each 8g serving of Cocoa contains 31 calories, Vanilla 36 calories, and 12 calories per 3 gummies
If I'm on medication, can I take it?
The general answer is yes, however, it is always a good idea to ask your doctor if you have special concerns. p.s our Vanilla powder & gummies are completely caffeine free :)
Is it okay to take Gold Dust daily?
Without a doubt! Our blend was created to be an all-in-one daily supplement, and we recommend using it consistently for long periods of time in order to gain maximum benefits. Every now and then, some people prefer to take a few days off or to increase or reduce the dosage according to their lifestyle. It is perfectly safe to take it every day.
Exactly where is Variety Mode located?
Our headquarters are in Manchester, United Kingdom! As our distribution centre is located in Bristol, all our products are packed and assembled there.
Which is the best method for using the products?
There is no better all-in-one blend than Gold Dust. Add it to coffee, tea, or protein shakes, or drink it alone with water or milk (hot or cold). Our Gold Dust blends are easy to use and can be combined with anything you like, such as smoothies, or even baking. Let your imagination run wild. The gummies we offer are the most convenient on-the-go solution. You can enjoy them wherever and whenever you want.